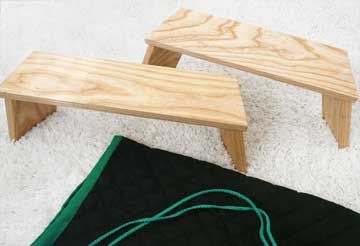 MEDITATION BENCHES
The meditation benches are hand-made out of ash tree wood and oiled with linseed oil. They are foldable and fit in any cabin-luggage sized suitcase.
The benches come in two sizes, one for people up to 170cm/5'5" and one for people taller than 180 cm/5'9". If you are in between 170-180cm it depends of the length of your legs to decide which one of the benches will suit you.
Meditation bench £50 + postage
cushion to wrap around the bench £15
fittied bag £12
As we do not keep stock and custom-make every piece, please allow at least 10 working days for production and time for delivery. 
To order please email your measurements to email address below.
Payment can be made via Paypal or UK bank transfer.





yoga, meditation, mindfulness, sitting, relaxation, health, wellbeing, course, courses, class, classes, retreat, retreats, hogetsu, zenmoon, creativity, zazen, buddhism, rinzai, Japan, japanese, zen, london, se, southeast, south, east, uk, united kindom, baerndal, bärndal, deptford, lewisham, lee, greenwich, bench, benches, cushion, zafu, zabuton, rakusu, wakesa, samue, jubon, fleece, jacket, japanese, hakama, layperson, outfit, clothing, handmade, hand crafted, hand, crafted,