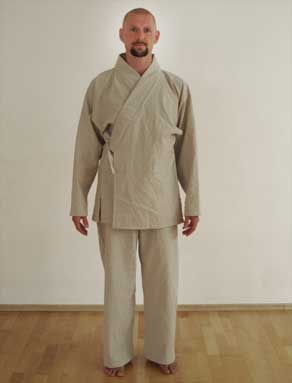 CUSTOM-MADE CLOTHES IN OTHER FABRIC
You are welcome to order some of the clothes shown on this website in other fabrics as well. Prices will vary depending on the cost of the fabric. You can also send your favourite fabric and have the clothes made out of it. For the amount of fabric needed and quotes please get in touch via email, see below.
For measurement references please download the PDF file here.
To order please email your measurements to the email address below. Payment can be made via Paypal or UK bank transfer.





yoga, meditation, mindfulness, sitting, relaxation, health, wellbeing, course, courses, class, classes, retreat, retreats, hogetsu, zenmoon, creativity, zazen, buddhism, rinzai, Japan, japanese, zen, london, se, southeast, south, east, uk, united kindom, baerndal, bärndal, deptford, lewisham, lee, greenwich, bench, benches, cushion, zafu, zabuton, rakusu, wakesa, samue, jubon, fleece, jacket, japanese, hakama, layperson, outfit, clothing, handmade, hand crafted, hand, crafted,