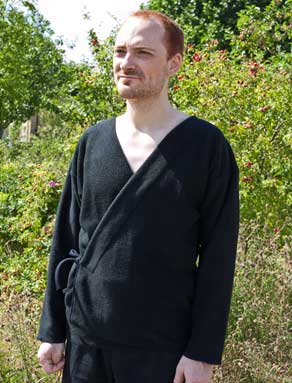 FLEECE
100% polyester.
Designed to be worn under a samue jacket or kimono without being visible. The back has a double layer of fleece to keep the back warm during sitting in retreats.
Custom-made fleece £45 + postage
for size up to 5.10" (180cm) hight and average size and weight.
For measurement reference please download the PDF file here.
As we do not keep stock and custom-make every piece, please allow at least 10 working days for production and time for delivery. To order please email your measurements to the email address below. Payment can be made via Paypal or UK bank transfer.





yoga, meditation, mindfulness, sitting, relaxation, health, wellbeing, course, courses, class, classes, retreat, retreats, hogetsu, zenmoon, creativity, zazen, buddhism, rinzai, Japan, japanese, zen, london, se, southeast, south, east, uk, united kindom, baerndal, bärndal, deptford, lewisham, lee, greenwich, bench, benches, cushion, zafu, zabuton, rakusu, wakesa, samue, jubon, fleece, jacket, japanese, hakama, layperson, outfit, clothing, handmade, hand crafted, hand, crafted,