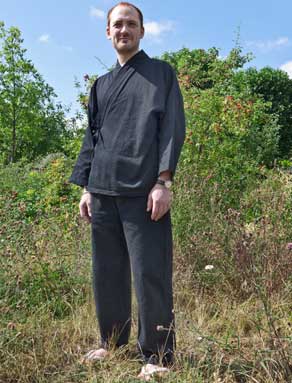 SAMUE
Polycotton

This is the workwear used in Japanese temples and daily life. It is made out of durable polycotton with the traditional openings under the arms and ribbons at the bottom of the legs to tighten them. Trousers have pockets and there is also one hidden pocket in the jacket too. The waist of the trousers is held by a ribbon to adjust the fitting.
Custom-made samue £90 + postage
for size up to 5.10" (180cm) hight and average size and weight.
For measurement references please download the PDF file here.


As we do not keep stock and custom-make every piece, please allow at least 10 working days for production and time for delivery. To order please email your measurements to the email address below. Payment can be made via Paypal or UK bank transfer.





yoga, meditation, mindfulness, sitting, relaxation, health, wellbeing, course, courses, class, classes, retreat, retreats, hogetsu, zenmoon, creativity, zazen, buddhism, rinzai, Japan, japanese, zen, london, se, southeast, south, east, uk, united kindom, baerndal, bärndal, deptford, lewisham, lee, greenwich, bench, benches, cushion, zafu, zabuton, rakusu, wakesa, samue, jubon, fleece, jacket, japanese, hakama, layperson, outfit, clothing, handmade, hand crafted, hand, crafted,